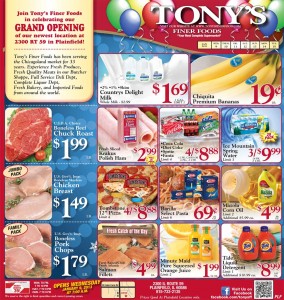 Tony's Finer Foods – known for excellent prices on produce – just opened their newest store in Plainfield. I was going to just list the best things I saw, but decided to put up the full ad pages instead. As you can see, the Chiquita bananas are extremely cheap and if you don't have the FREE Coke coupons from My Rewards, then $2.22 a 12 pk is the cheapest I've seen lately.
Barilla Pasta is 69¢ for select varieties – possible use of the $1/3 from 1/06 S1.
Ice Mountain is $3/$9.99 – use $1/2 from 12/09 rp
Salmon fillets are $4.99 – excellent price.
On Tide, you're better off buying smaller sizes to use the $1.50 12/30 P&G coupon.
Roland hearts of palm are only 99¢
LOTS of cereal promos – Buy 5 Special K boxes and get a free gallon of milk; Buy 4 Kelloggs cereals and get a free box of Pop Tarts.  Coupons in 12/09 rp and 1/06 rp1.  Use these coupons combined with the following IPs.
The following IPs were listed as being on ANY Kelloggs, but they are NOT and the specific cereals do not include Special K.  If you are buying other Kellogg cereals any way, the links are still active to print.  grrrrrrr
$1.00 off Juice and any 2 Kellogg's Krave Cereals
$1.00 off Yogurt & any TWO Kellogg's Cereals
1.00 off Fruit and any TWO Kellogg's Cereals
Skippy PB is $1.49 with 50¢ in-ad coupon.  Limit 1.
Welch's jam and jelly has $1/2 in-ad coupon, making it 99¢ each when you buy two.
Carl Buddig 2 oz packs are $2/3. Use the $1/4 coupons from 10/28 S and 12/09 S.
Three full pages of meat, poultry and seafood specials, one of deli. Honey tangerines and apple varieties are 99¢. Lots of deals on Indian and Mexican staples, including skirt steak (cleaned) for $3.99.  Several brands of rice are about 35¢ a pound – granted, these are 20 and 25 pound bags, but still cheap.  Purina Beggin' Strips are $2.79 – use the BOGO coupon from 10/14 S.
If this is a new store to you and you have questions about their coupon policy, here's the link.  Nothing weird stands out.  Note that you can't post-redeem coupons and they reserve the right to verify coupons over $3 face value (well, don't they have that right for all coupons?).